"The Peaceable Kingdom of Wilderness"
by Monte Dolack. ©2014
"The Peaceable Kingdom of Wilderness," by internationally-acclaimed artist Monte Dolack, commemorates the Wilderness Act's 50th anniversary and celebrates our 110 million-acre National Wilderness Preservation System, which spans ancient forests, vast arctic reaches, sweeping deserts, soaring mountains, remote coastal islands, and wild canoe country.

Wilderness Poster thoughts
"I worked through several ideas for this commissioned painting thinking about the important individuals who contributed to the idea of preserving Wild places. It is diverse and many people made this happen. I decided instead to focus on a rather formal portrait of some of the animals of our wild places with a backdrop of some of the wilderness areas across the United States. This painting for the 50th anniversary of the American Wilderness Act is about the interconnectedness of life and richness of landscape. All of our wilderness areas, though separated from each other physically are non-the-less connected, as is everything on this small planet spinning in space. The idea of the Peaceable Kingdom of Wilderness springs from Edwards Hicks' 1820 Peaceable Kingdom which is folkloric in nature.It is one of the best ideas we as a nation have ever had."

Monte Dolack
5/23/14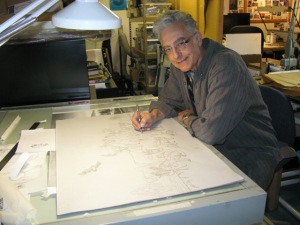 Monte Dolack working on
an early sketch of the painting. Mr. Dolack was commissioned to create the original artwork and poster by Wilderness50, a group of non-profit organizations, academic institutions, and government agencies planning events around the country to commemorate the Wilderness Act's 50th anniversary. Wilderness Watch has played a key role in Wilderness50's planning efforts and recommended Mr. Dolack for this special project. Wilderness Watch worked closely with the artist throughout the process and is handling distribution of the posters.
Monte Dolack working on an early color study of the painting

Monte Dolack working on the painting's composition.
Purchase a poster here: https://www.charity-pay.com/d/donation.asp?CID=75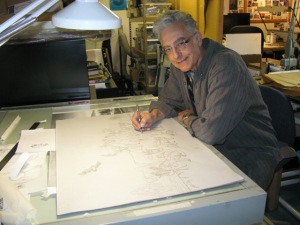 Monte Dolack working on final drawing of the painting.

The painting in progress.

Monte Dolack with the original artwork, "The Peaceable Kingdom of Wilderness."